Test
drove
for
the
last
6
months
Oracle
Fusion
Applications,
they
have
achieved
Incredible
Things,
7
Pros
and
2
Challenges
of
Fusion
Applications.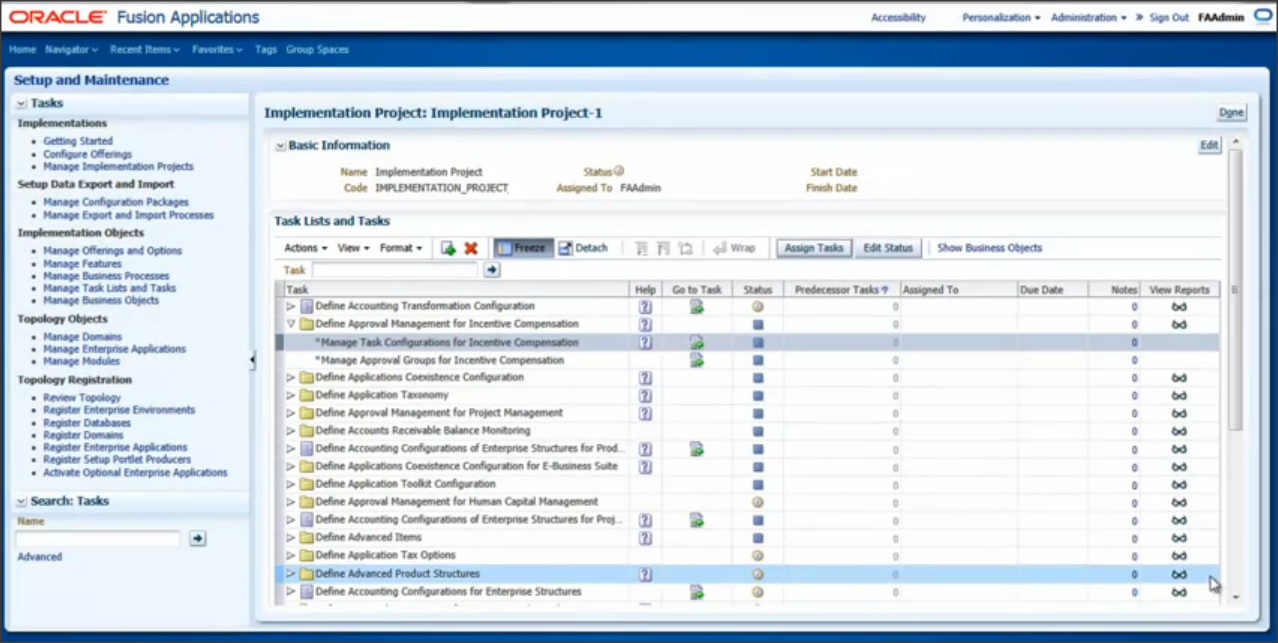 As most of you know for the past 6 months with some individuals in Palo Alto,CA. I have been testing, educating myself on the next generation of Oracle applications called Oracle Fusions Applications. What is Oracle Fusion Applications? It is inspired by the best of breed of Oracle's application: Peoplesoft (HRMS), E-Business Suite (Financials), Primavera (Projects), JD Edwards (Manufacturing/Financials) and Siebel (Embedded analytics)
The question that everyone is asking should i stay on my current ERP or replace my systems with Fusion applications: (I must get an email every two weeks on this topic). Before i share my thoughts on this topic, let me share my experience for the last 6 months on the current version of the Fusion applications:
Pros
1)The response time is solid, look and feel is great.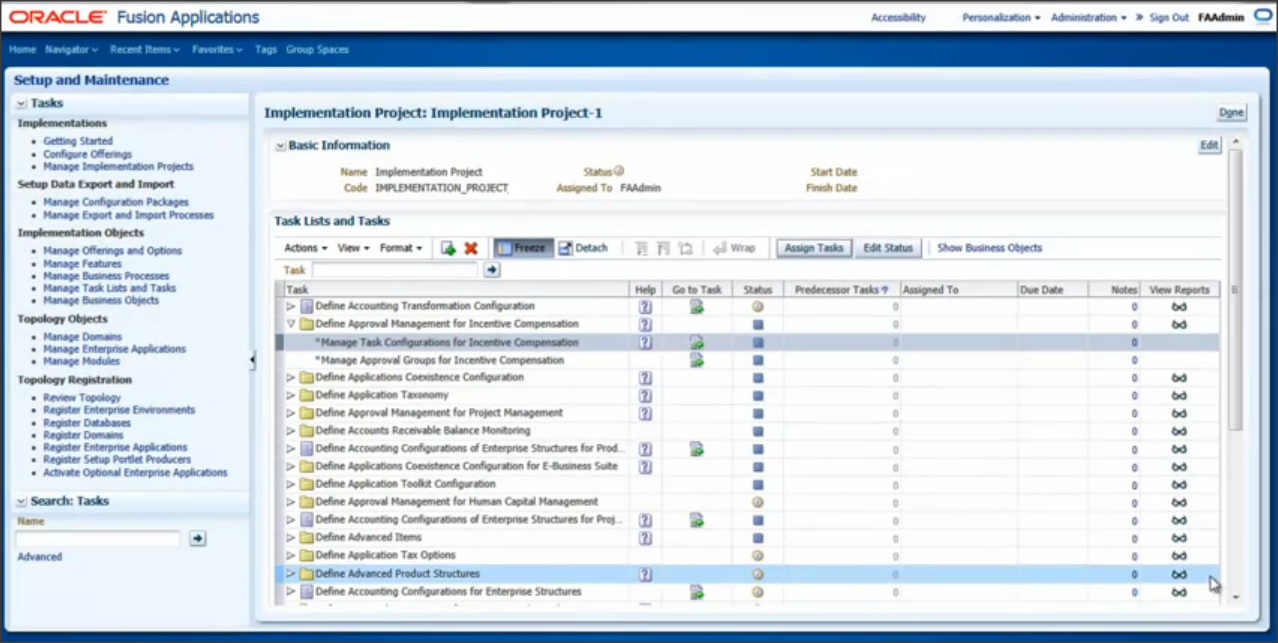 2) They have incorporated a configuration setup workflow that makes it much easier to configure your module. Above screenshot I logged in with Fusion Functional Setup Manager (FSM) this is a one- stop shop for all implementation activities from planning to deployment. FSM is a separate module product, who manages all setups and all the various branches of products groups. Fusion includes FSM to allow implementation by others than the IT department or consultants. This includes plenty of checklists and simplifies the job of the project manager to setup and monitor the setup tasks as identified by Fusion itself. (Functional setup much quicker and easier to perform!)
3) What I appreciated the most was the export setup data, this functionality also allows users to easily migrate configurations from one instance to another (Test/ Production), works great did not encounter any major issues.

4) Oracle Fusion Architecture provides an open architecture ecosystem, which is service & event- enabled.
5) Current present day applications have been on proprietary tools like People Tools, Forms, which require niche skill sets to manage and maintain.
6) Fusion has been developed; with Open standards based technology and is built on re-known Oracle Fusion Middleware (ADF, JAVA, SOA, BPEL, WEB 2.0 etc).
7) Currently CRM and HCM families are the most popular modules of Fusion, followed by Supply chain management (SCM). Below are all the family products: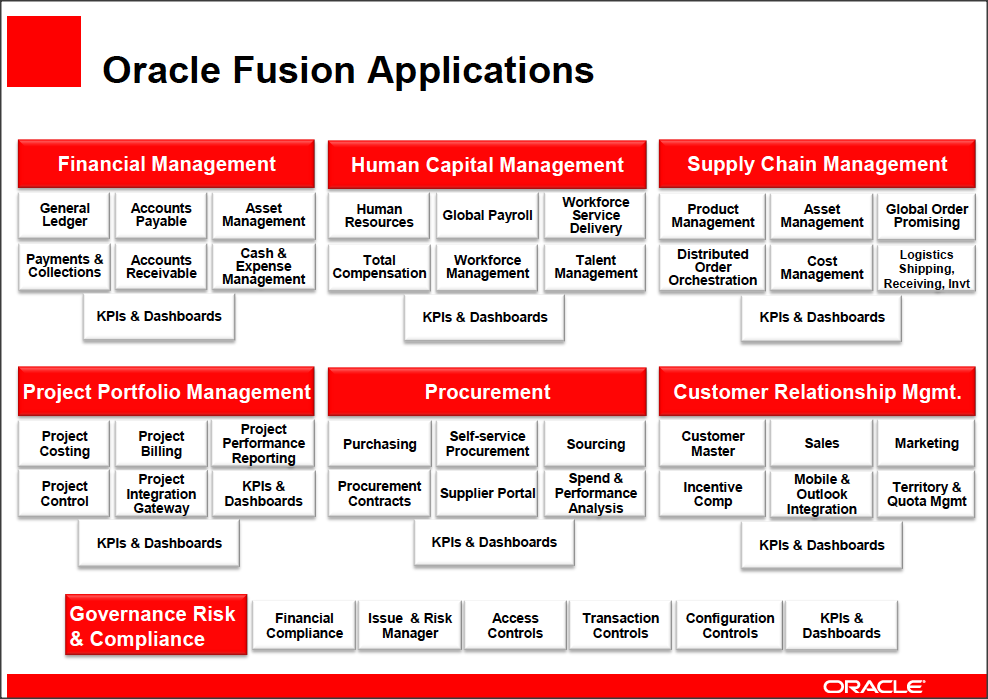 Where does PeopleSoft, EBS, Primavera, JDE and Siebel go from there? All these ERP's had released a major version after the announcement of Fusion GA(General Availability), and there's no end in sight for future support(I guess until 2020). In fact, I think Oracle has good reason to keep these Enterprise systems going, even with Fusion now as an option.
I don't think Oracle is in a rush to try to get people to move to Fusion. PeopleSoft, EBS etc...They are very profitable business for them.
If you just look at PeopleSoft are far more profitable than Fusion precisely because the latter is so new. The dilemma for customers is when to opt for innovation over stability.
Oracle Fusion implementation can be done in 4 ways by
Upgrading—Replacing an existing Oracle Applications instance with a new release (either a currently installed Oracle Applications version or Oracle Fusion Applications)
Reimplementation—Treating an existing Oracle Applications installation as a "legacy system" and implementing some components of a live Oracle Fusion Applications installation or an entirely new Oracle Fusion Applications installation
Coexistence—Adding Oracle Fusion Applications solutions to a customer's existing Oracle Applications solutions, rather than upgrading or implementing new solutions in place of existing solutions
Migration of data—Converting data from one Oracle instance to another Oracle instance by using Oracle's Open Interfaces API and other Oracle or third-party conversion tools
I am strong believer of co-existence strategy and architecture for Oracle E-Business Suite, PeopleSoft, JD Edwards and Siebel apps and Fusion, for the following 3 reasons:
1- Risk mitigation, Fusion applications is still in my view a new product
2- You require revamping your technology skills within your organization to extend, maintain and support the various components of Oracle Fusion Applications here is my short list (A coexistence strategy can help you slowly adapt with the change of technologies):
SQL, PL/SQL, JAVA & java script

XML – Extended Markup Language

CSS – Cascading Style Sheets

XSL – Extensible Style sheet Language

ADF – Application Development Framework

JSF – Java Server Faces

Web Services

BPEL – Business Process Execution Language

AIA – Application Integration Architecture

Web Center

BI Publisher

OBIEE – Oracle Business Intelligence Enterprise Edition

Hyperion Essbase

WebLogic Server Administration

Oracle Identity Management
3- Most corporations have invested significant money in their current technologies, and will require a strong business case with facts and numbers on the added value of going to Fusion in a big bang approach.
Interest will remain high with Fusion applications and my predictions in the next 5-8 years everyone will be on Fusion similar model like SAP. Why 5-8 years? Most corporations require lots of inter connections to other systems (spider web architecture) and have invested in significant customizations to meet the corporations global business requirements.
My overall experience with the Fusion applications exceeded my expectations. Would appreciate to hear from clients and others that are live with Fusion.