BPM
and
SOA
are
joined
at
the
hip
-
5
tips
-
next
mobile
bpm
is
coming.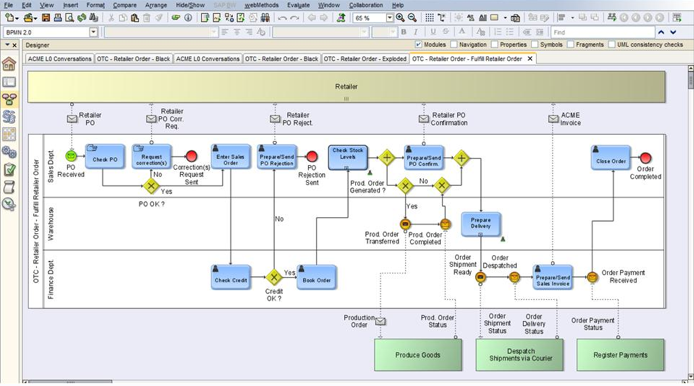 Over time, business process logic became embedded in these custom applications, often undocumented code and proprietary data structures that were expensive to change, the business answer was to duplicate business functionality, which of course increased the difficulty and expense of changing code. That resulted in higher IT costs and growing IT backlogs.
In my view most companies are starting the adoption of a data/process governance model across the enterprise and have understood the important link between BPM and SOA.

BPM is a management discipline that documents business processes so that they may be consistently executed, by measuring, monitoring and controlling process performance this includes key inputs and outputs of process.
BPM is a way of building operational solutions. SOA is a thought model that helps decompose complex problems into well-defined and reusable components. BPM ends with a statement of the desired level of automationand SOA begins with the set of services that are available to support the desired automation.
Tip 1 – Provide your business analysts /architects with BPMN 2.0 and BPEL modeling for your enterprise projects
Tip 2 – Embrace your company methodology don't drop it because of BPM or SOA modify the governance process and add the new deliverables into your existing company methodology.
Tip 3 – BPM and SOA follow "what you design is what you execute" (WYDIWYE) model. This model eliminates synchronization problems between design and run time, traditionally when the analyst created his business requirements document and the Developer developed the RICE(Report, Interface, Conversion Extension) Communication/interpretation issues occured. With BPMN Technical and Business Analysts are using the same tools.
Tip 4 - Connect your Business Analyst to BPM to create a realistic road map for process transformation. Anytime I'm in a room filled with enterprise architects and business process professionals, there's often a healthy debate back and forth about who drives transformation across the enterprise. The truth of the matter is that architects are usually the ones tasked with designing and delivering business transformation. And architects are often found in both EA and Business teams. If your Business Process initiative doesn't have an architect, make it a top priority to bone up on architecture in and look to add architecture skills to your process transformation activities.
Tip 5 – Here are guidelines for which business problems are best suited for SOA adoption
| | | |
| --- | --- | --- |
| Business Characteristics | Unlikely SOA Case | Likely SOA Case |
| Process Rate Change | Low | High |
| Shared Services | No | Yes |
| Business Transactional Model | Transactional | Procedural |
| Organizational Scope | Vertical | Horizontal |
| Runtime Dynamics | Static | Dynamic |
| Business Data | Centralized | Distributed |
BPM next focus should go towards mobile.
But looking a few years ahead, there is a one technology that I believe will have an impact on the way BPM systems are built: Speech Recognition.
The business case is quite simple:
Most of the BPM solutions use forms.
Once forms were filled by pencil and paper, then came the electronic forms, then keyboards to fill in the forms, and now "Mobile" enables you to "tap" information into the forms.
Your thoughts what do you think...
Below are some previous blogs on the topic of SOA and BPM:
Use BPM and SOA to drive out cost
http://appsconsultant.com/index.php?option=com_content&task=view&id=170&Itemid=9
Business Process Execution Language
http://appsconsultant.com/index.php?option=com_content&task=view&id=44&Itemid=9
SOA Architecture Strategy
http://appsconsultant.com/index.php?option=com_content&task=view&id=118&Itemid=9
Service Oriented Architecture (SOA)
http://appsconsultant.com/index.php?option=com_content&task=view&id=53&Itemid=9